Christmas and New Year Eve's in Naxos
Get to know about Christmas and New Year Eve's celebrations in Naxos
Naxos is the liveliest island of the Cyclades during Christmas. Streets, squares and shops are decorated with thousand colorful lights, creating a festive atmosphere. On Christmas Eve and New Year Eve, kids of all ages run around the streets, knocking on doors, and singing traditional carols. The householders treat them to 1- or 2-euro coins and by the end of the day, they buy their own Christmas gift.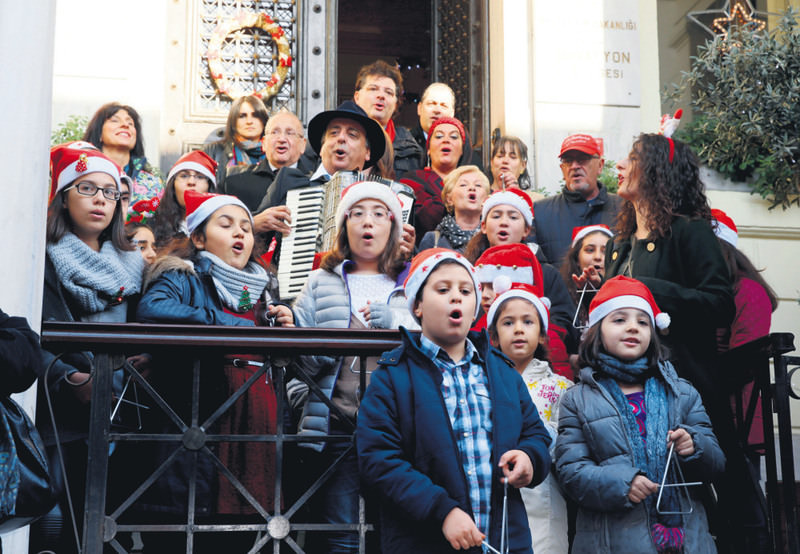 Christmas 2022
This year, the most noticeable scene someone could see, is the 5-meter-tall Christmas tree in the middle of Protodikiou square. The scenery is completed with many presents under the tree and some angels with candles around the fountain. Undoubtedly, this view creates an urge in us to buy some Christmas gifts for our loved ones from the nearby shops. In order to welcome Christmas 2022, a joyful event was organized at Protodikiou square on Saturday 3rd , when the Christmas tree was lit up for the first time this year. Seeing the colorful tree with the star on top, Santa Claus visited the square and handed out hundreds of gifts to children of all ages. Then, a group of kids from the music school started singing traditional carols. The night ended with live traditional music and local drinks (boiled raki/wine with honey) which kept the crowd warm.
Traditional Christmas in villages
Not only does Chora town decorate its streets and squares but also many villages celebrate Christmas with their own, unique way. The traditional Christmas theme in the villages is the a lit-up sailboat or a nativity scene, a representation of Christ's birth. Some of the most populated villages like Filoti, Apiranthos and Tripodes organize traditional events with live music at their central square on the weekend before and after Christmas. Usually, locals in Naxos return to their roots, celebrating festive events like Christmas with their grandparents and old friends.
The Christmas table in Naxos
On the Christmas table in Naxos roasted pork or stuffed chicken or turkey are usually served. The main aperitif, especially because of the cold and the good Naxian vineyards, is hot raki with honey. It's very simple and easy for someone want to make it themselves. Firstly, pour half a little raki into a medium-sized pot and let it boil. When it's hot enough, add 5 soup-spoons of honey and stir until the honey melts completely. Turn off the fire, leave it for 10 minutes and now you have your own, homemade "rakomelo". You can follow the same process, replacing raki with red wine, then you have "inomelo". On New Year's Eve housewives prepare the vasilopita, the traditional good luck cake that is shared amongst all guests on New Year's Day. The surprising thing with that cake is the coin that is hidden insider, and whoever finds it in his piece, is supposed to have good luck for that year.
Visit Naxos at Christmas
Even though Naxos might not have the fancy decorations, or the millions of lights of a big town, it's a place with cheerful people, who don't miss a chance to celebrate Christmas. Christmas sometimes has different customs in different cultures, but I believe the main idea is quite the same, keeping the traditions alive and reuniting with loved ones.
Hospitality is the people
Take a look at our both websites and you might meet us in summer, as many other guests have done since 2015. Subscribe to our Newsletter and get to know first our monthly news and articles.